Following the publication of THE GREEN HORNET book, fans expected authors Terry Salomonson and Martin Grams, Jr. to produce an additional volume on the masked vigilante's family relation, THE LONE RANGER. Often-rumored and talked about for more than a decade, news of the book's up-coming publication reached social media last month. The demand for readers to pre-order their copy today (rather than in April when the book is tentatively scheduled for release) was so strong we added the book on this website. You can pre-order your copy today and pay no postage!
---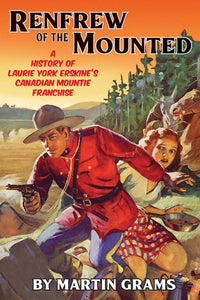 Martin's latest book is due for publication in November. Laurie York Erskine created Inspector Douglas Renfrew in 1921 as a series of short stories for AMERICAN BOY magazine. The
heroic
exploits of the fictional Canadian Mountie would expand to
ten novels (1922-1941), eight motion-pictures (1938 to 1940) and a healthy run on network radio from 1936 to 1942.
 Be sure to grab your copy today!
---
Get ready for unlimited thrills and chills as all six classic
Inner Sanctum Mysteries
come to Blu-ray for the first time ever. Based on the popular radio shows of the 1940's, this collectible set is a must-own for every classic mystery and horror fan. Among the bonus extras is audio commentary by Martin Grams providing history of the radio program and motion-pictures.