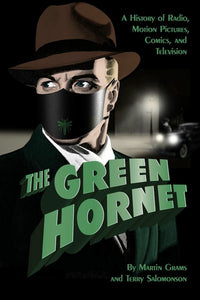 THE GREEN HORNET: A History of Radio, Motion Pictures, Comics and Television
Regular price
$34.95
Sale price
$44.95
Unit price
per
The Green Hornet was one of radio's best-known and most distinctive adventure shows. Britt Reid, publisher of The Daily Sentinel, was in the position to learn facts about criminals that only the police had access. Armed with this knowledge, a gas gun that rendered foes momentarily unconscious, and a black speedster known as The Black Beauty, he donned the guise of The Green Hornet. Feared by the underworld and sought after by the police, the masked vigilante fought racketeers, gangsters and saboteurs. When the police were faced with red tape, The Green Hornet, with his sidekick Kato, his faithful valet, circumvented protocol and legal procedure in their determined battle to put away crooks.
Since The Green Hornet first appeared on radio in 1936, he has made the transition to motion pictures, comics and television. Very little has been written about the masked marvel and what has been recorded in magazine articles and encyclopedias prior to this publication has never explored the character as deeply… or accurately. For the first time, the complete story of this crime fighter is unmasked, as prolific TV and radio historians Martin Grams and Terry Salomonson usher you into the Black Beauty.
A complete history of the radio series from the creation to conception sketches, reprints from production files to the untold adventures, biographic details of the cast and the characters they played (including Mike Axford, Kato, Gunnigan, Lenore Case, Linda Travis, Ed Lowry, Clicker Binney, Commissioner Higgins, etc.) and background information is all provided under one cover. Also included are details of the two cliffhanger serials produced by Universal in the early forties, the unaired 1952 television pilot, the long-running popularity of the comic books and the William Dozier television series (1966-67) starring Van Williams and Bruce Lee. A complete episode guide documents every adventure including unproduced scripts and plot ideas. Salary costs for actors on the television program, the death of actors Jim Irwin, conception sketches of the Hornet mask… it's all here. Whether you are a casual fan or a serious enthusiast of the series, here is everything you want to know about The Green Hornet!
REVIEWS
"I've just finished going through your Green Hornetbook and wanted to congratulate you on well-done research. I can imagine some of the many hours it must have taken you to write the book. I wish you best of luck."
— J. David Goldin, Radio Yesteryear
"With a big-screen Green Hornet due in January, it's time to look back and learn more about this masked hero and his colorful history in a variety of media. Grams and Salmonson, whose work is well known to old-time radio buffs, have dug deep and created a hefty paperbound book that one would have to call definitive. More than half of its pages are devoted to a detailed radio and TV episode guide. I don't know what the new movie with Seth Rogen will be like, but I know that there is something magnetic about the idea of the Green Hornet and his trusty servant Kato; this book will tell you all you want or need to know about how he came to be and flourished for so many years."
— Leonard Maltin, Movie Crazy
"I absolutely LOVE your Green Hornet book! After reading the first 100 pages or so, I can see the extreme work and time that you and Terry put in to. Your exhaustive research with minute detail —which I find so interesting is compelling! The book is informative, enlightening, interesting, and definitely the MOST comprehensive book ever on the subject. Congratulations, my friend. Your dedication to detail has inspired me greatly to move on with my two books. I look forward to meet you later this year and get your descriptive Green Hornet book autographed. Have a great day."
— Joe Martelle
"I just finished your Green Hornet book. You Sir, are a master. It was great. I can not tell you how much I enjoyed it. I can not wait to get home (I am at sea for two weeks) to listen to my Green Hornet radio shows again."
— Daniel Schroeder
"I just wanted to drop you a note and tell you how much I am enjoying the Green Hornet book. This is some hefty book! I began reading the TV sections and was taken with all the behind the scenes negotiations that took Trendle about 14 years to finally sell the series. I would have thought it would have been a natural easy sell during the 1950's, with all the cop shows being produced. Maybe one day the color pilot will surface. I do note that we now have a connection between the Green Hornet and Sam Spade being that Steve Dunne played both roles. Can you imagine Brit Reed delivering his lines ala Dunne's Sam Spade? Of course that wouldn't be the case, but it's something to give one pause for humor. Congratulations to you and Terry on a superb job and I look forward to devouring the rest of the book."
— Steve Kelez, Radio Showcase
Comic artist Ron Fortier made a review of Martin's Green Hornet book!  Ron is a professional writer for over twenty-five years, having worked on comic book projects such as The Hulk, Popeye, Ramboand Peter Pan. His most popular comic series being The Green Hornet and The Terminator (with Alex Ross). Check out his great website at  http://www.airship27.com/
TRIVIA
* Contrary to popular belief, Kato's nationality was not switched from Japanese to Filipino the day after the bombing of Pearl Harbor. As verified in the book, Kato became a Filipino in the summer of 1940.
* Both cliffhanger serials from Universal Studios from 1940 were filmed on the Universal lot. The parking garage scenes were really filmed at Universal's parking garage! Alan Ladd, before he became a known actor, appears in one chapter as an airplane pilot for a brief scene.
* Mike Axford was originally played by Jim Irwin, who died pre-maturely. Radio listeners felt so concerned that the hospital and his funeral were besieged by flowers as a result of the radio listeners pouring their heart out.
* Bruce Lee wrote a plot summary for an episode of the television series, which never went before the cameras. The plot is included in the book.
---
Share this Product
---