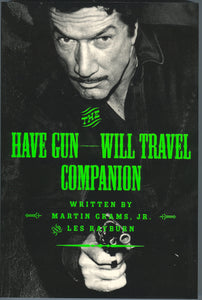 THE HAVE GUN-WILL TRAVEL COMPANION
Regular price
$44.95
$0.00
Unit price
per
Known as the Barrymore on horseback, Richard Boone created a character that television audiences could relate to. For six seasons, audiences were able to tune in each week and watch their latest adventure of Have Gun – Will Travel, a television western that walked over the censors and told stories that viewers today remember vividly. Broadcast over both CBS Radio and Television, Have Gun – Will Travel is still remembered by fans as one of the best adult westerns ever made.
This book documents the history behind the series, the genesis of the program, and why the show only ran a total of six seasons. Memories from script writers, actors, directors, producers, stuntmen and many more help give insight and a behind-the-scenes look at the making of each and every television and radio episode. Hal Needham, Frank Pierson, Peggy Rea, Andrew V. McLaglen, Sydney Pollack, Shimon Wincelberg, and many others contributed. Rare photos, over 150 to be exact, are featured — many never before seen until this book was published. The authors relied on exclusive interviews and production call sheets to make sure that all dates of production as well as broadcast dates, official script titles, and cast credits are all listed. (Numerous reference guides cited incorrect titles which was being carried over from one book to another. The Companion corrects those errors.) A complete chapter on every HGWT collectable is featured. Almost 500 pages thick!
REVIEWS
"A must-have for all western fans… a wealth of information… well researched."
— The Delta Star, October 2001
"Detailed… comprehensive."
— Western Mail, June 2002
"Much, much more (all you could ever want to know) about Paladin, the TV series, the radio series, Richard Boone, John Dehner, Ben Wright, etc., etc., can be learned from the fine book by Martin Grams, Jr. and Les Rayburn, The Have Gun-Will Travel Companion, published in 2000.  It contains complete episodic logs of both the radio and TV series, with plots, players and character names.  It's a gem!"
— Gordon Gregersen, LaGrande, Oregon, March 11, 2004 posting on The Old Time Radio Digest, Volume 2004, Issue 90.
DID YOU KNOW?
* Did you know that the character of Paladin once graced the cover of TIME Magazine?
* Did you know that a Rhode Island mechanic claimed he created the character of Paladin and went to court to fight CBS spanning thirty years?
* Do you know the unhappy story of why Sam Rolfe, one of the co-creators of the series, left the program abruptly during the middle of the third season?
* The stunt man who doubled for Richard Boone in many episodes was Hal Needham, director of Smokey and the Bandit and The Cannonball Run.
* The closing theme for the series, "The Ballad of Paladin," was originally composed as a "thank you" card for the producer because the song writer had the opportunity to play a brief role in an episode.
OUT OF PRINT but not OUT OF STOCK!!!
---
Share this Product
---