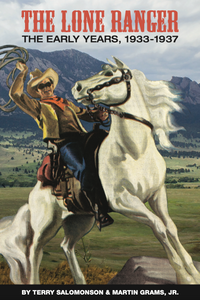 THE LONE RANGER: The Early Years, 1933-1937
Regular price
$39.95
Sale price
$49.95
Unit price
per
The book that has been two decades in the making. When THE LONE RANGER premiered on the evening of January 31, 1933, no one involved with the creation of the program suspected that "Hi-Yo, Silver!" would become an expression that would enter America's lexicon. For more than two decades, radio listeners were treated to the adventure of the "masked rider of the plains," who rode a fiery horse across the length of seven western states in pursuit of lawbreakers. With the assistance of Tonto, his faithful Indian companion, The Lone Ranger exchanged fisticuffs with outlaws who preyed upon the meek. Through these broadcasts The Lone Ranger quickly became mythic to juvenile listeners who faithfully tuned in to the radio program three nights a week.
Regrettably, it was not until 1938 that the radio broadcasts were recorded on a regular basis, which means the first five years of radio broadcasts are not known to exist in recorded form. Consequently, very little has been documented about those first five years, herein referred to as "The Early Years." Historians Terry Salomonson and Martin Grams, each of whom devoted two decades researching the subject, present us with this 800-page book (technically culminating a total of four decades of research) presenting the true facts behind the origin of THE LONE RANGER program, verifying the character was not created overnight but rather developed over a period of time.
The authors are aware that some of the factoids in this book will conflict with prior published reference guides. In debunking myths and misconceptions, the authors feature scans of archival documents to back up the facts, along with over 150 never-before-published photographs. In addition, this book offers plot summaries for pre-1938 radio broadcasts, filling a void that is sorely needed. Did you know The Lone Ranger and Tonto had a juvenile sidekick named Little Davy? Did you know The Lone Ranger more multiple masks in the early years before settling down with the traditional black domino mask? Did you know Tonto used silver-tipped arrows to defeat his foes? Did you know The Lone Ranger and Tonto had a canine sidekick for a short spell? Did you know Tonto was once engaged to the daughter of Chief Thundercloud? This definitive history will be a treat for fans of THE LONE RANGER. Fully indexed.
---
Share this Product
---