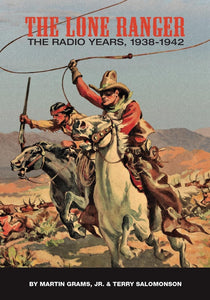 THE LONE RANGER: The Radio Years, 1938 - 1942
Regular price
$39.95
$0.00
Unit price
per
The second book in the series that has been decades in the making!
Picking up where THE LONE RANGER: The Early Years, 1933-1937 left off, this 800-page book documents the next five years of the radio program that would extend coverage nationwide in the spring of 1938. 
Historical hindsight applied, it was not until 1938 that the radio program truly became a national sensation through transcription discs, a silver screen cliffhanger serial produced and released theatrically by Republic Pictures, and an explosion of licensed Lone Ranger toys that made even Santa Claus in Christmas of 1938 consider delivering presents by stagecoach instead of sleigh.
It was during this time period that Shirley Temple confessed The Lone Ranger was her favorite radio show. General MacArthur's small son swore he never missed a Lone Ranger broadcast. Eleanor Roosevelt, the wife of the U.S. President, wrote about her grandson in her column: "The other evening I offered to read aloud to Buzz until bedtime, but there is a program on the air called The Lone Ranger which seems to be entirely satisfactory."
Just a sample of this volume contains:
* Extensive documentation about the two cliffhanger serials produced at Republic Pictures.
* Over 300 archival photos, most of them never-before-published.
* The business details regarding the radio transcriptions and why, in early 1938, it was decided to start recording the radio broadcasts.
* An entire chapter regarding the Buck Jones Lawsuit (1938-1942).
* Untold details about the death of Earle Graser, and the changing of the guard as Brace Beemer, the program announcer, was promoted to the title role.
* The fun of fluffs and bloopers.
* Complete episode guide for each and every broadcast from 1938 to 1942.
* And lots more!!!
Fully indexed.
DUE FOR PUBLICATION IN JANUARY. Use the code FREESHIP when you place your order for free shipping. (Offer good for shipping within the U.S. and until the book is at the printers.)
---
Share this Product
---