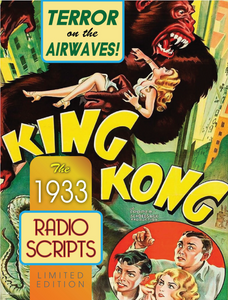 THE "LOST" KING KONG RADIO SCRIPTS
Regular price
$33.95
$0.00
Unit price
per
The year was 1933. The country was in the height of a Depression and weeks after the Bank Holiday concluded, RKO Radio Pictures promoted a new motion picture as "the picture destined to startle the world."
In the weeks leading up to the theatrical release of KING KONG, executives at RKO purchased an unusual time slot for an eight-week radio serial, adapted from the screenplay. The studio made a daring move by giving away the entire plot of the movie before it was released. Eliminating the advertising agency, the studio hired stage actors in New York City to report to the radio studios at NBC, twice a week, to dramatize the epic that took place 
on an unchartered island and a monster rampage through the streets of New York City. 
Recordings from that 1933 radio serial do not exist and until recently, the radio scripts were considered "lost"  - a Holy Grail among radio researchers and fans of the horror classic. Recently discovered in the hands of a private collector, this book reprints scans of all 15 radio scripts from 1933, the complete run, along with bonus extras such as radio scripts for the April 1933 New York City and Hollywood movie premieres. Also included (and most important) is a history of the short-lived radio program. For fans of King Kong, this is a treasure.
To ensure top value, this book is limited to a printing of 100.
Legal Disclaimer: The radio scripts were never copyrighted back in 1933, and thus fell into the public domain 28 years after they were written. Verified through the Copyright Office of the Library of Congress.  
---
Share this Product
---