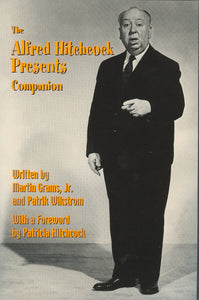 ALFRED HITCHCOCK PRESENTS COMPANION
Regular price
$49.95
$0.00
Unit price
per
Hundreds of books have been written about Alfred Hitchcock and his movies, but rarely has anyone covered the Hitchcock television series that still remains popular enough to warrant late-night television reruns and commercial DVD releases. Alfred Hitchcock Presents and The Alfred Hitchcock Hour have been broadcast over network television far more than Hitchcock's movies yet very little has been written dealing with the subject of the Hitchcock television series… until now.
The best way to describe the book is to quote one book reviewer: "Each of the 441 episodes is covered in a separate entry containing original airdate, complete cast and credits, the text of Hitchcock's on-camera remarks, a succinct episode synopsis, and the teleplay's original source material.  Many entried contain what the authors call 'Trivia, etc.' – additional behind-the-scenes information or other insights.  The material is excellent, much of it gleaned from the industrious interviews with the show's longtime producers Norman Lloyd and Joan Harrison; such writers as Henry Slesar and Ray Bradbury; directors Gordon Hessler, Joseph Pevney, and many others; and performers including Vincent Price, Julie Adams, Hazel Court, Warren Stevens, Marc Richman and many others."
This 660 page book (yes, it is that thick!) documents the entire history of the television series including a detailed episode guide for each broadcast, a chapter covering marketing collectibles, spoofs and comic books related to the Hitchcock television program, a listing of the anthology paperback and hardcover books using the Alfred Hitchcock name, and a generous helping of extras!
REVIEWS
"It is a treasure trove of information and lore, based on enormous research and a number of interviews.  The index alone, which runs 31 pages in small type, makes it a must for any reference library.  The authors have attempted to put Hitchcock's television work into the larger context of his career, and similarly, provided useful background material on many individual shows that allow us to see the big picture as well as the details."
–  Leonard Maltin, Movie Crazy
"The Alfred Hitchcock Presents Companion by Martin Grams, Jr. and Patrik Wikstrom contains an enormous amount of material on Hitchcock's activities apart from his role as a film  director… From beginning to end, The Alfred Hitchcock Presents Companion is overflowing with Hitchcock and all things Hitchcockian."
–  Sidney Gottlieb, The Hitchcock Annual, 2001-02
"Grams and Wikstrom's very ambitious, meaty book is by far the best yet to trace the history of the Hitchcock television phenomenon and its ancillary activity.  In fact, so good is this volume that it likely will never be surpassed."
–  David J. Hogan, April/May 2003 issue of FILMFAX Magazine
---
Share this Product
---