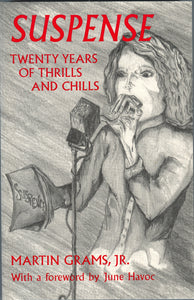 SUSPENSE: Twenty Years of Thrills and Chills
Regular price
$34.95
$0.00
Unit price
per
From 1942 to 1962, Suspense brought virtually hundreds of Hollywood celebrities to the microphone to appear in dramas that were non-characteristic of their screen and radio appearances. Comedians who wanted to try their hand at Shakespeare got to play villains, crooks and murderers. Boris Karloff could be heard as an angel in one episode while Phil Harris was hiding out from a lynch-hungry mob in another. Fans just never knew what to expect each week as such classics as "Sorry, Wrong Number," "The Hitch-Hiker," "The Wreck of the Ol' 97" and "Return to Dust" left memorable images the listener cannot forget.
THIS BOOK INCLUDES:
*  A lengthy history of the series with memories from cast and crew.
*  A complete episode guide for each and every radio and television broadcast with cast, production credits and plot descriptions.
*  All of the Suspense movies, comic books, novels and mystery magazines are reprinted in this book.
*  Alphabetical listing of all the titles for easy reference.
DID YOU KNOW?
* In 1981, 19 years after Suspense went off the air, the series won a Grammy Award for the best non-musical recording of the year, for a commercial release of "Donovan's Brain."
* Alfred Hitchcock was a fan of Suspense and after listening to "Death on My Hands," starring Phil Harris and Alice Faye, sought out the script writer, John Michael Hayes, and hired him to write the screenplay for his next picture, Rear Window. Hayes ultimately ended up scripting four screenplays for Hitchcock.
* In early 1948, William Spier wrote a stage play based on the radio program and took it on the road with Basil Rathbone.
* In 1945, Peter Lorre starred in a local telecast in California, adapted from a Suspense radio script. It was an experimental color telecast.
* Producer-director William Spier explained why he did not want to typecast Hollywood celebrities when they made guest appearances on Suspense. "Every audience likes to be baffled, but it's impossible to puzzle them if they immediately recognize the players and link them to the roles they ordinarily play."
REVIEWS
"I found it to be an invaluable tool in my own personal field of research documenting all known examples of radio science fiction and the supernatural. I had wasted untold amounts of money buying episodes of SUSPENSE in my quest to identify my genre classifications based on titles alone. This book not only answered my need for a complete set of plot descriptions for all 945 episodes, but the author included close to 20 fields of information for each episode."
— Gordon Payton, a.k.a. "The Sci-Fi Guy"
"This is a great book, no question about it! Certainly the final word on Suspense… I refer to it often. It's the only book you'll need for this show."
— Bill Kizer, well-known old-time radio fan
---
Share this Product
---