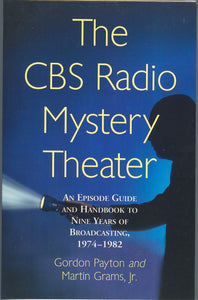 THE CBS RADIO MYSTERY THEATER: An Episode Guide and Handbook, 1974-1982
Regular price
$64.95
$0.00
Unit price
per
In a time when Rod Serling was making his triumphant return to television with an off-the-wall horror anthology titled Night Gallery, and Lynda Carter paraded across the boob tube wearing a patriotic flag for an adaptation of DC Comic's Wonder Woman series, Himan Brown was in a New York studio producing his latest offering: The CBS Radio Mystery Theater. Molded what was clearly his greatest radio program of all time, Inner Sanctum, each episode opened with the signature creaking door… and host E.G. Marshall introduced us to another chilling tale of monsters, murderers and mayhem. From 1974 to 1982, The CBS Radio Mystery Theater featured such luminaries as Fred Gwynne, Kevin McCarthy, Sarah Jessica Parker, Agnes Moorehead, Lloyd Bochner, Mason Adams, Keir Dullea, Russell Horton, Mercedes McCambridge, Tony Roberts, Marian Seldes and many others. Script writers included Henry Slesar, George Lowthar and Mary Jane Higby. A total of 2,970 radio broadcasts broadcasts aired between 1974 and 1982. This book accounts for each and every one of the episodes. Script titles, broadcast dates (and rebroadcast dates), episode numbers, cast lists, writer and adapter credits, and a storyline synopsis is provided for each episode. Comments and trivia about the performers and writers, with their remarks are quoted with anecdotes about the scripts and sound effects, and other notes of interest abound.
Himan Brown was a radio producer and director for more programs than we can possibly document. As early as 1929, he was producing radio drama with a blood-and-thunder technique. Bulldog Drummond, The Adventures of the Thin Man, Terry and the Pirates, Dick Tracy and many others were brought to the air courtesy of his brain trust. Living in New York City, he knew the actors and was familiar with their voices. He knew who could play the roles required of the scripts and each episode was produced on the cheap, with many actors writing scripts for the series, supposedly for $350 a script. Rehearsals were limited to a read-through around the table and the episode was recorded using stock music from the CBS Music Library. (This was why music cues from television's Perry Mason, Gunsmoke and The Twilight Zone can often be heard in the background.)
When the press release from CBS went out to newspapers across the country, Brown announced that The CBS Radio Mystery Theater would be "the most exciting break-through of the last ten years." It was indeed, the return of the "art form of radio drama." Brown insisted that his program would be contemporary in everything from technical effects to subjects and characters, including a female police lieutenant, a child born out of wedlock, abortion, and a man copying with sterility. Subjects that would never have been explored in radio drama during the 1930s and 1940s. "Our whole approach," he emphasized, "is more adult."
During the week The CBS Radio Mystery Theater premiered, January of 1974, 218 stations around the country began broadcasting the show. Twenty-one of those stations were not affiliates of CBS, resulting in a title change. In New York, for example, the series was titled The WOR Radio Mystery Theater. Other stations billed it simply as Radio Mystery Theater and others as Mystery Theater. It was estimated that at its prime the series carried as many as two million listeners each night! Critics, however, were less than enthusiastic. Daily News called the premiere episode, "dull"; their review of the second episode noted, "The premise may sound exciting, but the show wasn't."
Upon learning that actor Vincent Price felt radio drama was the ultimate acting chore, and relished doing radio, Himan Brown invited the actor to play a role in his next production. Price rejected the offer, explaining that the series was being promoted as the return of an art form that he felt was never dead to begin with. Furthermore, Price explained, the dramas came off like they were re-creations of a by-gone era and not polished like Hollywood once offered in the 1940s and 1950s.
This book also features a list of the CBS General Mills Radio Adventure Theater and a list of the 1998 revival of The CBS Radio Mystery Theater.
BOOK REVIEWS
"Excellent!"
— ARBA
"An extensive look at the radio drama that gave us the fear you can hear in the '70s"
— Starlog Magazine
"Dismissing the publisher's original intention to keep this tome from being released in paperback format, our wishes have been granted by the magic fairy. Payton and Grams' superb book has been re-released with a slightly lower price [and in paperback format]. I am not aware of any discounted books authored by the ambitious Grams and with that said, I recommend fans of CBS RMT rush out and buy the paperback before it gets pulled from bookshelves."
– Tammy Kebil, The CBS RMT Gazette
"Indispensable addition to any serious CBS Radio Mystery Theater collector. Hard to find, but well worth the acquisition effort."
— The Digital Deli
"…is an excellent resource for plot and behind-the scenes information of the excellent seventies production by Himan Brown."
– OTRCAT.COM, Lenexa, Kansas
"This book contains everything you would want to know about the series and more, including a short history of the program. More than just a log of the broadcasts, it also includes a synopsis of all 2,970 episodes, including original broadcast dates, re-broadcast dates an cast. There is also a twenty-five page alphabetical index listing actors, actresses and series titles. Another bonus included is a log of The CBS General Mills Radio Adventure Theater, a spin-off of the CBS RMT. In short, if you are a fan of The CBS Radio Mystery Theater, this book is a must have! At $45.00, the cost is cheap. If your wife is like mine, you may need two copies."
— Frank C. Boncore, The Illustrated Press
---
Share this Product
---