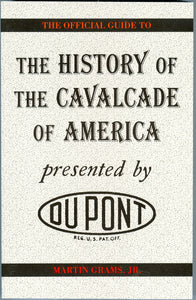 THE HISTORY OF THE CAVALCADE OF AMERICA
Regular price
$8.95
Sale price
$29.95
Unit price
per
In 1935, the DuPont Company began sponsoring a radio program by means of enhancing the company's image and bringing great events in American history to an audience of millions. While many film historians consider radio drama of the thirties and forties the virtually unexplored Hollywood, programs such as The Lux Radio Theater, Suspense and The Screen Director's Playhouse receive more attention than The Cavalcade of America. Many consider the series a bit slow and boring because it centers on American history. Costume period pieces presented before a microphone. Nothing could be further from the truth. "Cavalcade" was a term used to describe pioneers who shaped the way America operates today. From the man who created the first sky scraper to the construction of the Holland Tunnel, Betsy Ross creating the American flag and George Washington's drive that helped him cross the Delaware… they were told with polished productions that rival many of today's offerings on local radio stations.
The best talent in Hollywood starred in lead roles: Basil Rathbone, Agnes Moorehead, Orson Welles, Humphrey Bogart, James Cagney, James Stewart, Helen Hayes, Rex Harrison, Bette Davis, and more. Playwrights such as Arthur Miller, Carl Sandburg, Stephen Vincent Benet and Arch Oboler wrote scripts exclusively for this program. Errol Flynn reprised his screen role from They Died With Their Boots On three days before the movie premiered in New York City. Raymond Massey became synonymous as Abraham Lincoln not just because of the motion-picture and numerous stage performances, but thanks to the repeat annual performances on The Cavalcade of America. Henry Fonda reprised his screen role for Drums Along the Mohawk… and the list goes on and on.
With the co-operation of the DuPont company, this official guide lists each and every radio and television episode, in great deatil (with plots and a who-played-who cast list), memories from the writers, actors and directors, and trivia regarding the broadcasts themselves. You'll get an inside look at the production of how much work went into each and every radio and television drama. Which actress made her farewell performance on the program (she was ill during the performance and went home after the broadcast and died later that night). Documentation to verify why each and every episode was recorded on transcription disc and how DuPont effectively (and shrewdly) used the program to promote nylons during World War II.
THIS BOOK ALSO INCLUDES
*  A complete episode guide for each and every radio and television broadcast so detailed that one entry alone includes all 150+ chorus members that sang for a particular Cavalcade Christmas program!
*  Details and plots to stories suggested and proposed but never used on the program, including reprints of fan mail and story proposals submitted from faithful listeners.
*  Behind-the-scenes trivia and intriguing bits of information about the broadcasts, many gleaned from memories and interviews with the cast and crew.  Learn how they used a huge pile of twigs to simulate the sound effect of a falling tree on one Arch Oboler-directed radio broadcast!
*  Discover historical mistakes and corrections made during the broadcasts, and which ones were caught by observant radio listeners!
REVIEWS
"This is the kind of book OTR fans wish were available for every radio show or series produced, or, at least, for their favorites."
— Charles Sexton, September 1999 issue of RRL on the Air
"A radio program which deserves to be better remembered receives a fine tribute in The History of the Cavalcade of America by Martin Grams, Jr. This hefty paperback book is an exhaustive tribute to a program which aired from October 1935 through March 1953. Old-time radio collectors, and fans of this series in general, owe Mr. Grams a debt of gratitude for his diligence in documenting this important and enjoyable series."
— Issue 35 of Past Times
---
Share this Product
---