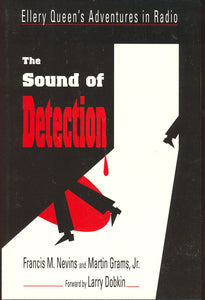 THE SOUND OF DETECTION: The Radio Adventures of Ellery Queen
Regular price
$24.95
$24.95
Unit price
per
Ellery Queen, perhaps as famous as any fictional detective after Sherlock Holmes, was created by cousins Frederic Dannay and Manfred Lee over lunch one day in 1929. This led to more than 40 novels, a film series, a long and convoluted run on radio, and various runs on TV. For an initial $350 fee, Dannay and Lee would write one mystery per week, allowing both the guest armchair detective and radio listeners the opportunity to solve the mystery themselves, before the famous sleuth did.
This new publication includes a detailed account covering the lives of the creators, the how and why they moved Ellery Queen into radio, and a detailed history of the series during its long run on the airwaves (1939-48). Included in the chapters are reminiscences taken from interviews and correspondence with the creators themselves; with mystery writer and critic Anthony Boucher, who collaborated on more than 70 of the later radio adventures of the master detective; and with three of the actors who played Ellery over the years.
Includes an introduction by Larry Dobkin, who played Ellery Queen for a short time on the radio! Includes a detailed broadcast log with a chart showing various time slots, networks, sponsors, and competition. Brief biographies of cast and production crew. Capsule biographies of more than 350 personalities who appeared on the program as guest armchair detectives. A week-by-week log giving principal actors, announcer, director, composer-conductor, sponsor, script writer(s), plot synopsis, and much more. Appendices covering subjects like the early episodes of The Shadow that Dannay and Lee wrote without credit in order to learn the craft of radio writing, and other Ellery Queen incarnations on the radio.
INCLUDED IN THIS BOOK
*  A detailed broadcast log listing each and every 350+ radio broadcasts, a chart showing various time slots, networks, sponsors, competition, cast and writer credits, director credits & plot descriptions.
*  Brief biographies of the cast and production crew.  Capsule biographies of the 350+ personalities who appeared on the program as armchair detectives.
*  Appendixes covering subject like the early episodes of The Shadow that were written by Dannay and Lee without receiving on-air credit (chapter written by Bill Nadel).
*  Three plot synopsis written by Boucher for the radio program that never got dramatized are reprinted for your enjoyment.
REVIEWS
"Though Queen fans and radio buffs will alreadybe salaaming their thanks to the collaborators there's more: a week-by-week list of the guest on the Queen team's other radio show, the 1939-1940 panel game Author, Author, a listing of changes in the regular cast of the Ellery Queen show through the years; and finally (and farthest beyond the call of duty) brief biographies of the guest armchair detectives."
— Jon L. Breen, December 2003 issue of Ellery Queen's Mystery Magazine
"More of a revisit to the 1981 edition, Nevins and Grams added much more, expanded beyond what I initially expected."
— Mystery Forum, September 2002
"What makes The Sound of Detection stand out as a 'must read' for OTR fans are the meticulously researched chapters."
— August 2003 issue of Return With Us Now
---
Share this Product
---