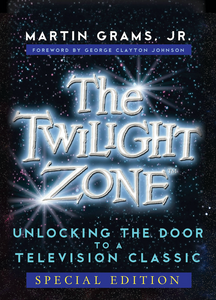 THE TWILIGHT ZONE (Variant Cover) Hardcover Edition
Regular price
$59.95
$0.00
Unit price
per
Published 15 years ago, this massive 800-page book is now officially out of print. But we are offering die-hard collectors of THE TWILIGHT ZONE a limited edition hardcover with variant cover. Sold on a first come, first serve basis. Also comes with a TZ bookmark!
Very few television shows withstand the test of time, and Rod Serling's The Twilight Zone is one of the notable exceptions. Proven to be an important part of American culture since its debut on CBS in October 1959, many Hollywood producers, screenwriters and directors have been inspired and influenced by this series. Comic books, magazine articles, numerous television revivals, a major motion picture and even modern audio productions have been produced, showcasing the continuing popularity of this television classic. This definitive history presents a portrait of the beloved Rod Serling and his television program, recounting the major changes the show underwent in format and story selection, including censorship battles, production details, and exclusive memories from cast and crew. The complete episode guide recalls all 156 episodes of the series in detail that has never before been accomplished in any publication. This book will make you want to look back at the episodes once again, whether you are a casual fan or serious enthusiast of the series. Unlock the door to a television classic by reading about the in-jokes, bloopers, and other trivia associated with the behind-the-scenes production of . . . The Twilight Zone!
THIS IS THE LIMITED EDITION HARDCOVER WITH VARIANT COVER. 
Only 100 were printed!
Winner of the "Best Book of the Year" Rondo Award!
REVIEWS
"Readers who feel they've entered this dimension before, namely via Marc Scott Zicree's Twilight Zone Companion years ago, are in for a treat. Grams has dug further than any other researcher into this durable anthology's creation and history, a series which included amongs its fans novelist Ayn Rand and actress Jodie Foster. . . . The Twilight Zone: Unlocking the Door to a Television Classic is a proud testament to the series's enduring appeal."
— Mark Phillips, book review issue #120 of Filmfax
"I'm blown away by the mass of data … by the attention to the smallest detail. You deserve the highest praise for this book. It puts everything else written about Twilight Zone in the shade. Monumental and fascinating, and hugely informative!"
— Science-Fiction author William F. Nolan
"The word DEFINITIVE is not one that should be bandied about loosely or bestowed too readily on any text. However, Martin Grams Jr.'s newest television history can, without reservation, be called definitive, essential, benchmark, and all other terms that indicate no collection should be without it."
–Tony Fonseca, Dead Reckonings, Spring 2009
"… an 800-pager that contains not only episode details for even the most earnest fans but also plot synopses that should be of interest to writers of SF/Fantasy/Horror."
— January 2009 issue of Planet Magazine
"Grams, steeped in television history and lore and author of over 12 other books, has included in the book everything which would inform and entertain Twilight Zone and TV buffs. This is a definitive guide to the series and welcome companion to reruns of it or of single shows."
— Henry Berry, Press Book Review
"If there is anything to criticize in Martin Grams' incredibly impressive Twilight Zone: Unlocking the Door to A Television Classic, it is the astounding size and voluminous nature of the text. Grams, who in the past has written a number of impressive works on various other old TV and radio shows, has done more than his homework on this subject, he has gone for his full doctorate in Twilight Zone history. Within the nearly 800 pages his phenomenal research has managed to reveal just about every fact, both major and trivial, that could be gleaned about the show, from budgetary breakdowns to contract disputes. For the average reader, even the average fan of the show, wading through this Goliath-like tome could easily be a daunting enterprise. It is best served not as a casual read but rather as the ultimate reference guide to the series, a volume to be consulted after watching an episode or digested slowly and methodically."
— Bruce Dettman, Glass House Presents
"Highly recommended for community and academic library Television History and American Popular Culture reference collections, and a 'must' for the legions of Twilight Zone fans."
— James A. Cox, Wisconsin Bookwatch
"While I can't (and wouldn't want to) fathom the kind of fan who needs to know the brand of typewriter ribbon Rod Serling used, I can't imagine one who won't find much of this inforamtion fresh and fascinating."
— Mike Segretto, Psychobabble
"There have been plenty of books about the show but never as detailed as this one. This is the most complete title that no fan should miss."
—  Gary Roen, The Midwest Book Review, September 2010
"Any fan of TZ is surely familiar with Marc Scott Zicree's essential 1982 book The Twilight Zone Companion, which has been updated and kept in print for almost three decades. However, an author named Martin Grams, Jr. has trumped Zicree with a larger and even more comprehensive history of Serling's show, The Twilight Zone: Unlocking the Door to a Television Classic. Topping out at well over 800 (!) pages, Grams' book—literally—contains everything you ever wanted to know about TZ. What dates did rehearsals and shooting occur for "To Serve Man?" How much did this prop cost? On which sound stage did this episode film inserts? It's all here—every piece of TZ minutiae you can imagine is packed inside this book."
— Johnny LaRue's Crane Shot
"I have gotten some good movies and books for review, and earlier this year I scored a copy of Martin Grams' reference book The Twilight Zone: Unlocking the Door to a Television Classic. A winner of the 2008 Rondo Hatton Classic Horror Award for 'Best Book of the Year,' it is no longer in my 'review' pile or my 'giveaway/donate' pile, but on my shelves next to another indispensable reference book on classic genre TV, David J. Schow's The Outer Limits Companion."
— The Drunken Severed Head blog
"When Wikipedia doesn't know something about The Twilight Zone, it picks up a copy of Martin Grams, Jr.'s The Twilight Zone: Unlocking the Door to a Television Classic. Why? Because the belief that you can find anything on the internet simply isn't true and this book proves it. All 800 pages are loaded with an unbelievable amount of information, 90% of which you wouldn't imagine still even existed."
— CineWeekly.com
---
Share this Product
---